Trying Hard not to Geek Out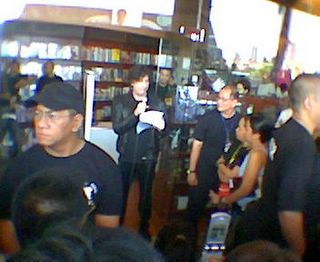 Sorry for the unclear picture, this was taken from my cellphone. Apparently you can send via SMS the picture to email. I didn't know that (said the technophobic cat).
So
Neil Gaiman
is in Manila, and this picture was taken yesterday, the 2nd day of signing he had in Greenhills Promenade Mall in San Juan City.
As Neil
notes
on the 1st day of signing:
Apparently over 3000 people turned up to see me, although only 700 tickets guaranteeing you a signature were given out (and had all gone well before lunchtime). (Which I still don't quite understand as I was told it would be limited to 500. But there you go.) It began late, due to overrunning tv interviews, followed by Printer Hell, when I couldn't get something to print out on the hotel printer, so I had to read it on stage from the laptop -- which left me feeling I'd made the right choice in getting a laptop that weighs about 2lb. So the event began a little after 4:00pm. A short ANANSI BOYS reading, a short Q&A, and then I signed...

I stayed till everyone still there in the tent was done -- I finished signing for the last people in line, all of us more than somewhat shellshocked, around 1:25 am.
Figure this, the biggest number of people he's drawn for his signing has been 2,000 and we beat that. Amazing, eh?

More details to follow...